5+ Beautiful Places To Visit In Nepal
Nepal is one of the best tourist destinations in South Asia. We will discuss Beautiful Places To Visit In Nepal. We will discuss 5 places.
This country is small but full of natural and cultural destinations. There are 10 UNESCO world heritage sites in Nepal. 
Pokhara Phewa Lake, Lumbini, Chitwan National Park, etc are some famous places in Nepal.
Nepal is the best destination from Jungle Safari to Mountaineering and from rafting to paragliding.
If you are willing for these things then you must visit Nepal. 
✔ Jungle Safari
✔ Mountaineering
✔ Bungee Jumping
✔ Rafting
✔ Trekking in hills
✔ Paragliding
Nepal is full of greenery and about 43% of the total area of the country is covered with forests.
There are about 6000+ small and big rivers in Nepal. You may be shocked but Nepal is indeed the 7th wonder of the world with a small area but huge natural destinations.
Most of us have heard about Gurkha Army. Yes, Nepal is the origin country of the Gurkha Army. Nepalese Gurkha Army is serving in different countries like India, Britain, etc. Nepal is a developing nation, so there is a presence of poverty but the heart of the people living here is precious.
Some advantages of visiting Nepal as your next tour destination are: 
✔ With less money, you can visit more places because it is cheaper.
✔ Even small places are full of natural resources and tourist destinations. So you can visit multiple places in a short time with less money.
---
  Beautiful Places To Visit In Nepal  
If you are a nature lover and love adventures then you must visit Nepal. It is one of the best destinations that you must visit.
Some of the places that you must visit in Nepal are:
  a. Kathmandu Valley  
Kathmandu valley consists of three districts named Kathmandu, Bhaktapur & Lalitpur.
These districts are small but full of historical and cultural places.
Some of the places you must visit inside Kathmandu valley are:
a. Pashupatinath Temple
Pashupatinath Temple is one of the oldest Hindu temples in the world. In Hindu society, its importance is very high.
Worship of lord shiva is mainly done in this temple as Pashupatinath is another name for lord shiva.
It is also a sign of unity as this is open to all religions giving the message of unity.
Location: Gaushala Road, Kathmandu
Origin: 4380 B.C
Architectural styles: Pagoda, Hindu temple architecture
Date established: 5th century
Function: Hindu Temple
Deity: Shiva
b. Boudhanath Stupa
It is one of the popular tourist destinations in Kathmandu valley. As the name itself explains, it is associated with Lord Buddha.
This stupa is also known as Monkey Temple as it is home to many monkeys.
Address: Buddha Stupa, Boudhanath Sadak, Kathmandu
Height: 36 m
Affiliation: Buddhism, Hinduism
UNESCO Site Id: 121
c. Bhaktapur Durbar Square
It is one of the oldest palaces located in Bhaktapur. It housed the Malla kings of Nepal from the 14th to the 15th century.
Address: Durbar square, Bhaktapur
UNESCO Site Id: 121bis
Owner: Bhaktapur Municipality
Architectural style: Nepalese Architecture
Newari Name: Khwopa Lāyekū
d. Dharhara
Dharhara was first built in 1832 by Mukhtiyar Bhimsen Thapa and was a part of the architecture of Kathmandu recognized by UNESCO.
From the top of the Dharhara; you can enjoy the amazing view of Kathmandu city.
Coordinates: 27.7007°N 85.3119°E
Completed: 1832 or later
Address: Sundhara, Kathmandu
Height: 72 m
Status: Complete (Reconstructed)
Architectural style: Mughal and neoclassical style
---
  b. Lumbini  
Lumbini is the birthplace of Lord Gautam Buddha. You can see the stone on which Buddha was born.
There are more than 100 Buddhist Gumbas and Temples inside the Lumbini.
Lumbini is recognized as the peace zone of the world that provides the message of peace throughout the world.
It is located in the Rupandehi district of Nepal.
Area: 1.95 ha
Location: Rupandehi District, Nepal
---
  c. Pokhara  
Pokhara is a beautiful city that is full of beautifulness and consists of many tourist destinations.
You can enjoy boating, paragliding, mountain view, etc in Pokhara.
From Pokhara, you can enjoy the view of greenery and mountains too.
The small area of Pokhara is full of many destinations. Some of the best tourist destinations in Pokhara are:
a. Phewa Lake ( Lakeside) 
Phewa lake area is also known as the lakeside area. It is one of the best and most beautiful tourists attraction in Nepal. Almost half of the tourists visiting Nepal visit this area.
You can enjoy boating in Fewa Lake. There is also a temple on the island that lies in the middle of Phewa Lake.
Status: Semi-Natural
Area of Phewa Lake: 4.43 km²
Location: South of the Pokhara Valley
Mean depth: 8.6 m
Number of Islands in Lake: 1
b. Davis Fall 
Davis fall is a waterfall that, when it reaches its bottom, produces a 500-foot-long subterranean tunnel.
You can have the best experience by visiting this waterfall during mainly monsoon season.
Location: Pokhara-17, Chhorepatan
c. Gupteshwor Mahadev Gufa
Gupteshwor Mahadev Gufa is a very beautiful cave.
You can see an underground waterfall inside this cave. Davis fall joins this cave to form an underground waterfall.
Your wind will blow after seeing this. There is also a temple of lord shiva inside this cave.
Location: Pokhara-17, Chhorepatan
Length: 2950 m
d. Mahendra Gufa
Mahendra gufa is a cave known as Chamera Gufa because this cave is also the home of many bats.
Length: 200m
Location: Pokhara-16, Batulechaur
Status: Natural Cave
e. Sarankot
Sarangkot is a ward 16 of Pokhara. It is known for panoramic Himalayan views of Dhaulagiri, Annapurna, and Manaslu.
You can enjoy the beautiful view of Pokhara from Sanagkot.
Sarangkot is also famous for Paragliding where you can enjoy it a lot.
Location: Pokhara-16, Sarangkot
---
  d. Kanyam Tea Garden  
Kanyam (illam) is known for the beauty that is given by tea gardens.
You can enjoy beautiful views, nature, and horse riding there.
Kanyam is also known as Darjeeling of Nepal because of its beauty.
Location: Kanyam, Illam
---
  e. Bandipur, Tanahu  
The hilltop settlement of Bandipur, predominantly a Newar town with its age-old flavor still intact is well preserved and invites travelers to experience its unique offerings: rich hill culture, mountain views, and hiking.
The morning sun rising view from Bandipur is one of the main reasons behind the attraction of tourists.
Location: Bandipur, Tanahu District
Known For: It is also known as the queen of hills as you can see small hills and clouds from the top of this Bandipur hill.
---
  f. Bungee Jump Kushma  
The Bungee Jump of Kushma holds the world's second-highest bungee jump in the world after The AJ Hackett Macau Tower Bungy Jump which is 232 meters in height.
Kushma Bungee Jump 
Trip Name
Kushma Bungee Jump
Bungee Location
Kushma, Nepal
Kushma Bungee Height
228 Meters
Bungee Freefall Time
4.5 Second
Bungee Price
Rs 7000 per person
Photo, Video & T-shirt
Rs 1500 per person
Bungee Bridge Length
520 Meters
Bungee Weight Limit – Minimum
45 KG
Bungee Weight Limit – Maximum
95 KG
Couple Swing Weight Limit
128 KG in total
---
  g. Chitwan National Park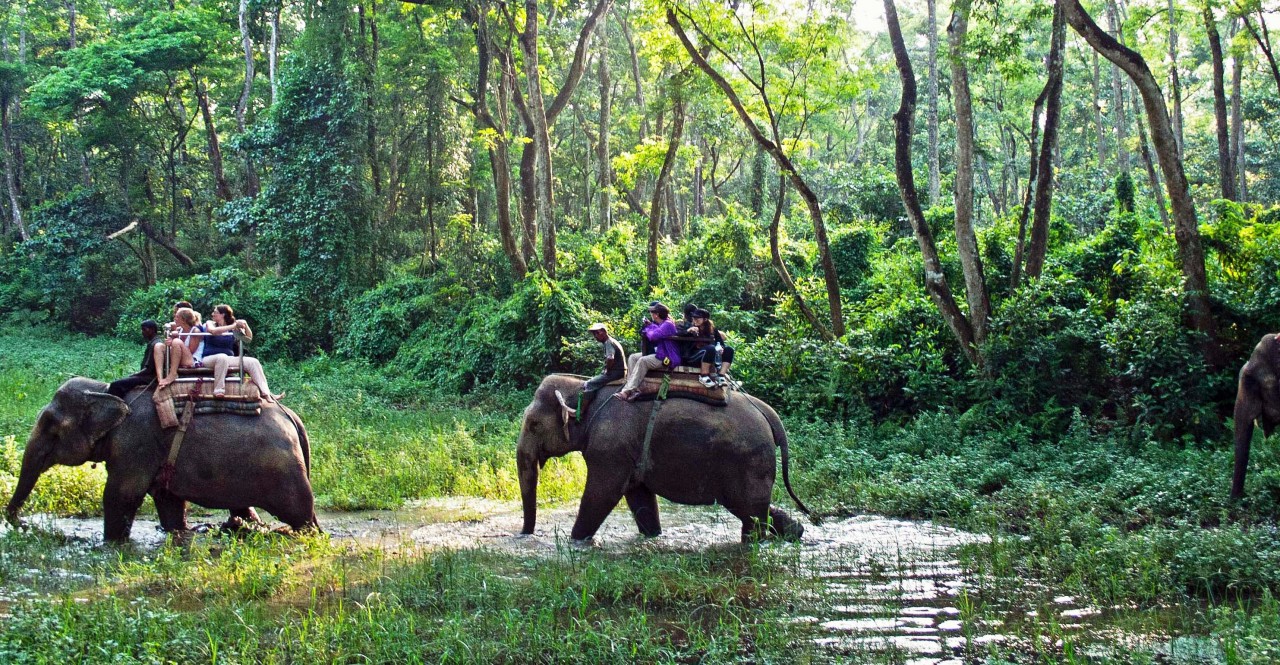 It is the biggest national park in Nepal and is home to many animals, plants, and birds.
You can enjoy Jungle Safari here. Believe me, you will be amazed by doing a safari and enjoy seeing tigers, lions, one-horn rhinos, etc.
Location: Central Terai of Nepal ( Nearest city: Bharatpur)
Area: 952.63 km2 (367.81 sq mi)
Established: 1973
---
  Plan:

Places To Visit In Nepal  
These are only some of the famous tourist destinations. Nepal is so full of natural and cultural resources that while visiting only of these, you will find 50 to 100 more places to visit.
For the best experience; we suggest you the following:
a. Land at Gautam Buddha International Airport ( Bhairahawa )
b. Lumbini is so much near to it. So visit Lumbini then also visit other many places like Fulbari, Jitgadi Killa, Tilaurakot, etc. You can finish all tours there within 3 days.
c. Then move towards Pokhara. Visit all the places there. It will take around 5 days for you to visit different destinations in Pokhara as it is full of destinations. Tanahu is near Pokhara. So, you can visit Bandipur. It will require more than 2 days for you.
From there, you can move to Chitwan to enjoy a jungle safari at Chitwan National Park.
d. Then go to Kathmandu and visit all the places as we mentioned. There are around 10 more tourist destinations in Kathmandu than we told. So you can complete visiting within 4 days.
e. Then you may go to other places to visit or from Tribhuban International Airport you may return back to your nation.