Khusma Nepal – 7  MUST VISIT PLACES IN KUSHMA
Kushma is the small village and headquarters of Parbat district in Nepal. In kushma tourists come in large number every year to see that real piece of Heaven. Municipality of kushma was formed by merging thirteen villages communities of development . Kushma lies on the western part of Nepal falls under western development region of Nepal. Khusma is the great place for family picnic, vacations etc. There are so many places to visit in khusma but now we mainly talk  about the seven places which said to be the tourists attraction in khusma.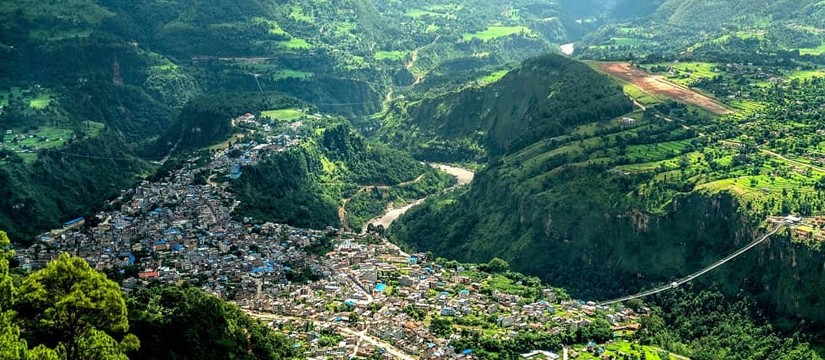 TOURISTS ATTRACTION IN KHUSMA
Seven places in Khusma that make your trip worth it:-
1-Dodhara Chandani Bridge
Dodhara chandani Bridge is the bridge in kanchanpur district of Nepal. Dodhara chandani Bridge also known as Mahakali bridge is a suspension bridge for pedestrian. It is the sequence of four bridges  with eight pylons. It is 1452.96 m long and 1.6 m in width.
2- Kushma Gyadi Bridge
Khusma Gyadi Bridge is the highest and longest bridge in Nepal.  Khusma gyadi Bridge is 1,128 feet long it is  opened in 2010 is one of the world`s  highest and the main attraction of tourists.
3- Gupteshwor cave
Gupteshwor wave is one of the famous caves of Nepal. Gupteshwor cave also known as Gupteshwor Mahadev Cave  is located in Pokhara-17, kaski District. The water from Davis falls passes through Gupteshwor Mahadev cave. The cave is discovered in 16th century by a local men.
4-Kushma bungee  
Kushma bungee is said to be the Highest bungee of Nepal and second- Highest  bungee of world with the height of 228 metres. It is located on the border Bunglong and the kushma district of Nepal. It is only 6-0 km away from Pokhra. Khusma bunge jump starts from 8:00 AM. Khusma bungee jump  costs 7000 per person and additional 1500 for the video of your jump.
5- Gandaki Golden Bridge
Gandaki golden footbridge is the bridge with the with a span of 567 m. Gandaki golden bridge is over the Kaligandaki river. It is owned by Nepal government. The height of Gandaki golden footbridge is 122m from river level. It is the second largest bridge after Sky bridge it is the world`s largest bridge.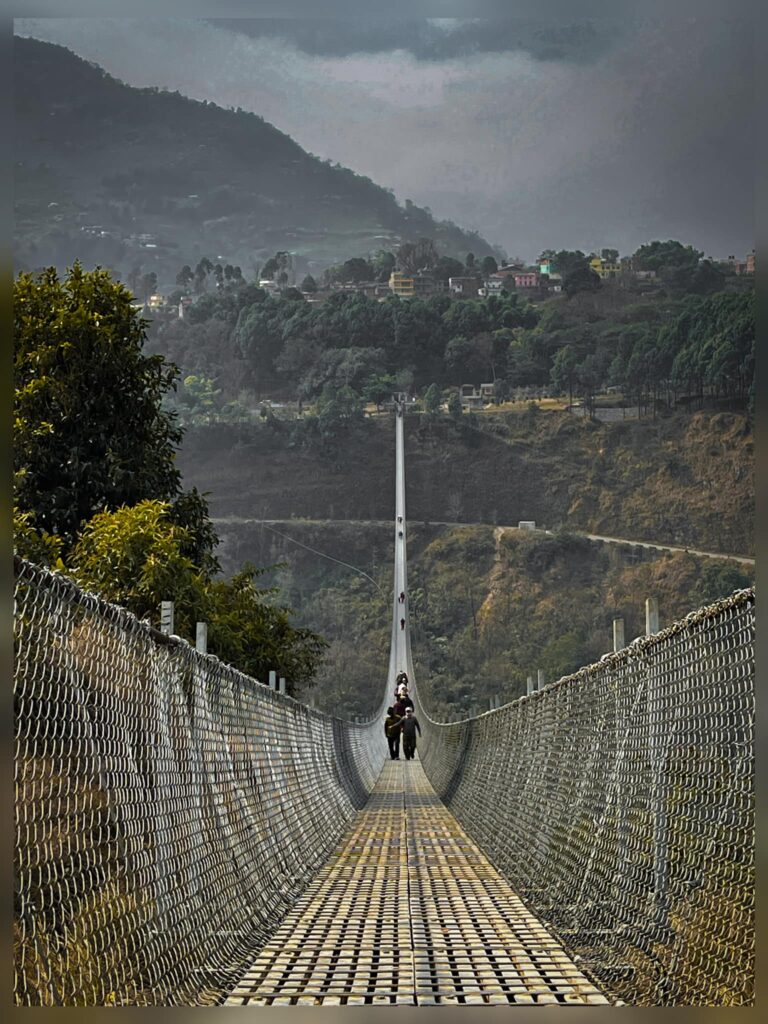 6- Poon Hills
It is the hill station located on the border of myagdi and kaski district in Nepal. It  is also known as Annapurna sunrise it is one of the attractive mountain range of the world. Poon hill is famous for its beautiful view of sunrise. Poon hills is located in the 270km west from Kathmandu. When it comes to hike it takes 2-3 days from Pokhara to Poon hills.
List of mountains can be seen from Poon Hills
| | |
| --- | --- |
| Mountain | Altitude |
| Gangapurna | 24,459ft (7,455m) |
| Nilgiri Himal | 23,166ft (7,061m) |
| Dhaulagiri | 26,795ft (8,167m) |
| Tukuche peak | 22,700ft (6,920m) |
| Machapuchare | 22,943ft (6.993m) |
| Hiunchuli | 21,132ft (6,441m) |
| Gurja Himal | 23,599ft (7,193m) |
| Annapurna I | 26,545ft (8,091m) |
| Dhampus peak | 19,724ft (6,012m) |
| Annapurna II | 26,040ft (7,937m) |
| Annapurna III | 24,787ft (7,555m) |
7-Davis Falls
Davis Falls is the waterfall located at Pokhara. Water forms tunnel after reaching the lowermost. Tunnel is approximately 500 feet long.  A swiss couple went swimming on 31 july 1961 but the women drowned because of the overflow of water. Her body was recovered with great efforts after three days in Phusre river. The Nepali name of it is Patale chango which means Paatal ko Chango which english means is "Underworld`s Waterfall". Davis Falls is the attaction for tourists and locals. There are so much fun activities for tourists like they can try their luck on luck pond constructed over there by placing a coin on the statue of the god.
Enjoy your vacation!
Keep visiting define places for latest updates.