Top 10 Biggest ISKCON Temples in India
International Society of Krishna Consciousness (ISKCON) is a global organization that was formed in 1966 in New York City. This is a team that follows the Gaudiya Vaishnava tradition. The are followers of Radha and Krishna. In India the birth of Krishna is celebrated as Janmashtami.  The ISKCON temples during Janmashtami witness large number of tourists.  You might be wondering about what  is ISKCON temple specialty and about its popularity. This follows the monotheistic culture of Hinduism and Hare Krishna Movement.
Top 10 ISKCON Temples to visit in India in 2023
ISKCON Temple- Bangalore
ISKCON Temple- Haridwar
ISKCON Temple- Noida
ISKCON Temple- Pune
ISKCON Temple- Jaipur
ISKCON Temple- Vrindavan
ISKCON Temple- Delhi
ISKCON Temple- Mumbai
ISKCON Temple- Ahmedabad
ISKCON Temple- Hyderabad
1- ISKCON Temple- Bangalore
The ISKCON Bangalore temple is the biggest ISKCON Temple in India. It is also called the Sri Radha Krishna Temple; this place is visited by large number of devotees from all over the world. Every year the festival of Janmashtami is celebrated in this temple. During the festival temple gets a fresh coat of paint and decorated with lights and divas. The bhog is prepared and also shared with the devotees.
Address: Hare Krishna Hill, Chord Road, Bangalore.
2- ISKCON Temple- Haridwar
The beautiful city Haridwar is situated on the banks of Holy River Ganga. In Haridwar the famous Sri Gour Radha Krishna Temple attracts thousands of devotees all over the world.
Address: Vaikunth Dham Ashram, Haridwar
3- ISKCON Temple- Noida
In Noida, the Sri Radha Govind mandir is very popular amongst tourists. This tall building is situated in Agrasen Marg even though it is not that spacious like its other branches. During Janmashtami the mandir is decorated with flowers and lights and devotees come here to experience the grand Aarti.
Address: A-5, Opposite NTPC office, Sector 33, Noida.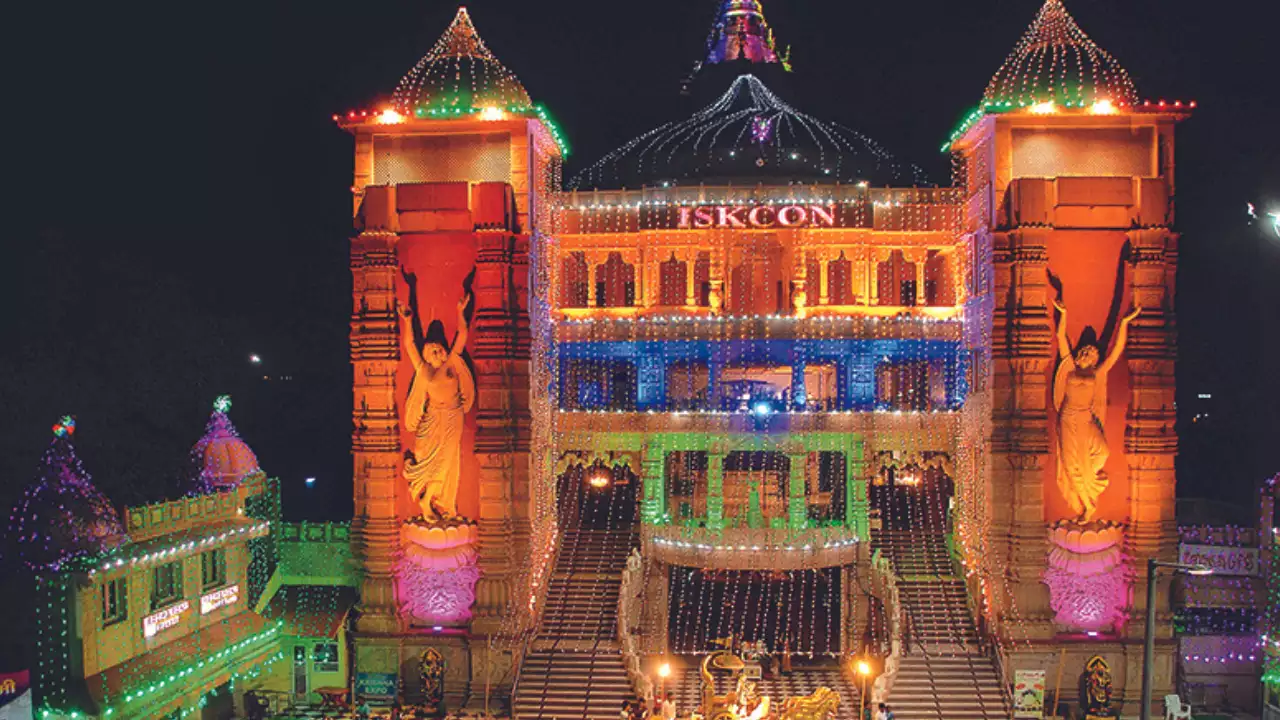 4- ISKCON Temple- Pune
Situated in Pune the Huge Radha Vridavanchandra temple is one of the tourist attractions of Pune  . The preparations started at the beginning of August as the temple is cleaned and decorated with flowers and lights and then lord Krishna is adorned with new accessories and clothes.
Address: ISKCON Nvcc Road Katraj- Kondwa Bypass, Kondhwa Budruk, Pune.
5- ISKCON Temple- Jaipur
Situated in Jaipur Giridhari Dauji Temple is huge and beautiful. True to the city's royalty and glory this mandir also has a towering great presence with giant lord Kirshna statue. During the time of Janmashtami the entire place is glitters in lights and floral decorations. Devotees chant of Hare Krishna as they celebrate the special day.
Address: Sri Giridhari Dauji Temple, Village Dholai, ISKCON Road, Mansarovar.
6- ISKCON Temple- Vrindavan
Situated in Vrindavan this is the first ISKCON temple in India known as the Sri Krishna Balaram Temple. This was build in 1975. Every year during Janmashtami devotees from all over India assemble here to celebrate the special day. Based on the Hindu Mythology Vrindavan was the place where lord Kirshna grew up. The festival Janmashtami gets a whole new meaning here. It is a grand celebration that attracts thousand of devotees from all over the world.
Address: Bhaktivedanta Swami Marg, Vrindavan, UP.
7- ISKCON Temple- Delhi
Situated at the heart of the capital the famous Radha Radhikaraman Krishna Balaram Temple is a huge and beautiful ISKCON temple. During Janmashtami approx. 7-8 lacs people assemble here to celebrate the special day. People having ISKCON membership have some advantages here during a very crowded Janmashtami.
Address: ISKCON Temple Road, East of Kailash, New Delhi.
8- ISKCON Temple- Mumbai
Considered as the top 20 ISKCON temple in India Sri Radha Rasabihari in Mumbai. During the time of Janmashtami the temple is decorated with flowers and divas. This temple also depicts Krishna stories which attracts thousands of devotees to visit this temple.
Address: ISKCON, Hare Krishna Land, Sainath Nagar, Mumbai, Maharashtra.
9- ISKCON Temple- Ahmedabad
Situated in Ahmedabad Shri Radha Govind Dham temple is one of the beautiful creations. During Janmashtami the temple is decorated with Bulbs and divas. Many cultural programs and Aarti takes place during the time of Janmashtami in the temple. Also known as Hare Krishna Mandir this attracts thousands of tourists from all over the world.
Address: Sarkhej- Gandhinagar Highway, Ahmedabad, Gujrat.
10- ISKCON Temple- Hyderabad
Situated in Hyderabad Radha Madanmohan Mandir is another popular South Indian ISKCON Temple. This temple is the headquarters of ISKCON in South India and celebrate Janmashtami with cultural festivities and programs.
Address: Nampally Station Rd, Hare Krishna Land, Hyderabad.
Keep visiting define places for latest updates.