GUREZ VALLEY – Kashmir | Reach From Srinagar to Gurez Valley (Distance)
Gurez or Gurais is the valley situated in the high Himalayas, about 123 km from Srinagar and 86 km from Bandipore, to the north of the Kashmir valley. In 1895, Sir Walter Lawrence the British author first called the Gurez valley " one of the most beautiful scenes in all of Kashmir", It is about 2,400 metres above the sea level, the valley is surrounded by the snow capped mountains. This place had diverse fauna and wildlife including Snow leopard and Himalayan brown bear. Kishanganga River flows through this valley.
Gurez valley is near the Line of Control, which separate it from the Neelum districts and Astore of Pakistan-administered Kashmir. Being situated close to Burzil Pass, which leads into Astore the inhabitants are shins. People of there speak Shina language and have the same dressing style and culture as their Kinsmen in Pakistani-administered Gilgit-Baltistan. Centre township in the area is Dawar. The population of the area is 30,000 and is scattered among fifteen villages. Due to heavy snowfall around 2 metres and closure of Razdan Pass in winter, the Gurez valley remains cut off for six months of the year.
History of Gurez Valley
Gurez valley is a pleasing destination in Kashmir and an integral part of ancient Dardistan, stretching between Minimarg in the north, Bagtore in the south, Drass in the east and Sharada Peeth in the west. The Gurez valley falls on the famous Silk road route, traders used to pass through this valley. Nowdays, this area is become military intensive as it is located very close to the Actual Line of control between India and Pakistan. Today, many visitors love to visit Gurez valley as it is become one the best tourist destination in Kashmir.
Tourist Attraction in Gurez Valley
Gurez valley is highly militarized region close to Bandipora in Kashmir, the valley is not only popular among tourists. Now, efforts are being made to make this area popular among nature lovers who can visit here and enjoy its gorgeous sites. Visit Gurez valley one of the best place to visit in Kashmir and come back relaxed, refreshed and rejuvenated from this divine place. Now,take a look at the best places you must visit in Gurez Valley.
Tulail Valley
Spine-chilling cliffs and scenic valleys, soaring mountains and gushing rivers make Tulail valley very attractive and beautiful. Tulail valley is the sub-valley of Gurez in the union territory of J&K in India. The valley lies 120 km northeast of Bandipora and 200 km from the capital of Jammu and Kashmir, Srinagar. The unexplored and untouched beauty of the valley make you realize the sheer beauty of this place. The valley lies immediate east of the Gurez valley.
Khandiyal Point
It is the top of a hillock that offers 360 degree view of the entire Dawar, the kishenganga lake and the surrounding villages. It is the good spot to see sunrise and sunset.
Army Cafe 
It is the small café run by the army of India. Until the couple of years ago, it was just a canteen frequented by the Indian soldiers. But now it is a fancy café that is the most favorite place to hang out for tourists as well as for locals.
Razdan Pass
The first and only high-altitude pass in journey between Srinagar and Gurez valley. At the height of 3,300 m, it provides some of the most breathtaking and beautiful views of the mountains. You must stop their for some time for enjoying the view and get some amazing photographs
Chakwali
Chakwali is the last village in Tilel district that you can visit. This is where the road currently ends and that part of Kashmir starts which is occupied by Pakistan.
Chorwan Village
It is a small village extremely close to the border a few kilometres from Dawar. You will be not allowed to go all way to the village and will be stopped at Army Check post.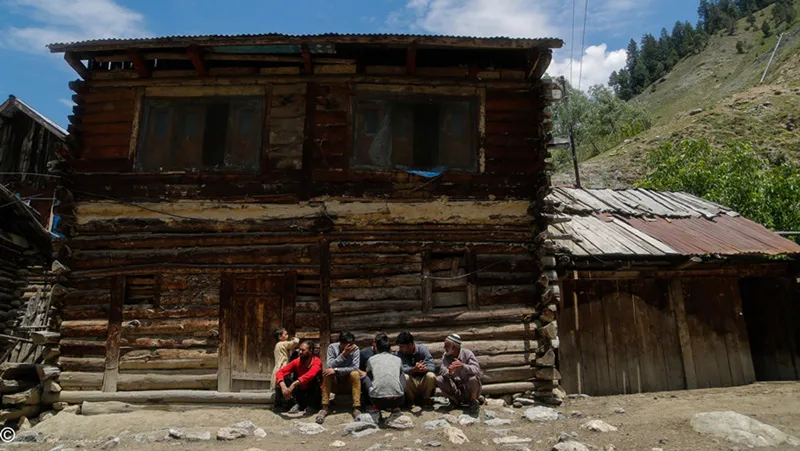 Places to Stay in Gurez Valley
| | |
| --- | --- |
| Hotels | Prices |
| Houseboat Inshaallah | Rs 3,890 |
| Musk Deer Resort | Rs 2,833 |
| The Orchard Retreat & Spa | Rs 15,739 |
| Hillscape Inn | Rs 4,800 |
| Mascot Houseboats | Rs 14,417 |
| Houseboat 1002 Nights | Rs 6,664 |
| Hotel Brown Palace | Rs 3,524 |
| Jamal Resorts | Rs 4,536 |
| Wangnoo Houseboats | Rs 4,614 |
| Hotel Grand Mahal | Rs 3,818 |
Things to do in Gurez Valley
Kayaking
Trekking
River Rafting
Star Gazing
Photography
Timings to Visit
If you want to experience chilly winters and snowfall so, plan a trip from mid-December to March. We recommend you to inquire about the place before you visit there in winters as it  occasionally cuts off from the rest of the are due to heavy snowfall. Thus the best time to visit there is from May to October.
How to Reach From Srinagar to Gurez Valley
By Air
The nearest airport to reach Gurez valley is Srinagar airport in Srinagar. The airport connects this place with different parts of the country through a network of flights. After landing you can hire a cab or taxi to reach Gurez Valley.
By Rail
Travelling to Gurez valley by rail is a mesmerising experience. People can enjoy scenic views through the journey and reach Gurez valley Rejuvenated and refreshed. You can hire cab or taxi from railway station to reach this hill station.
By Road
Gurez valley is about 123 km from Srinagar and 86 km from Bandipore. You can hire private vehicle from Srinagar and it'll take 5-6 hours to reach at Gurez valley. If you want to use public transport you can take a bus from Bandipore to Srinagar and take another bus from Srinagar to Dawar in Gurez.
By helicopter
People can also take helicopter service to visit Gurez valley and enjoy aerial views of this stunning place and preserve them in memory forever.
Travel Tip
Although people doesn't experience heavy rainfall in Gurez valley, whatever little rainfall this place experience makes travelling to this place challenging and tough. At the time of rainfall roads become inaccessible and crossing through them is quiet difficult so you must check weather before visiting Gurez Valley.
Frequently Asked Questions (FAQ)s
Que– What are the documents is needed to visit Gurez valley?
Ans- Aadhar Card is needed to visit Gurez valley because there are many checkposts, starting from Rasdan Pass where all the tourists have to show their Aadhar Card.
Que- Is it safe to travel solo to Gurez valley?
Ans- It is safe to travel in almost every part of Kashmir whether you are a group of tourists but it is not that safe to travel solo in Gurez Valley.
Que- How many days are enough to explore Gurez Valley?
Ans- You need at least three days to explore Gurez Valley.
Que- What is the specialty of Gurez Valley?
Ans- Fauna and wildlife is the specialty of Gurez Valley.
Que- Is Gurez valley open in winters for tourists?
Ans- Yes, Gurez valley is open in winter months for tourists.
Keep visiting define places for latest updates.