Tulum-Jungle Rooftop Restaurant In Chandigarh
Introduction
Isn't it enjoyable for everyone to eat in a cafe? The 21st century's current fashion tends to visit cafés with a limited selection of beverages and foods.
Tulum Chandigarh offers you a suitable setting to spend time with your friends and family. Never pass up an opportunity; smile and express thankfulness for everything you have. There are many different dishes, but this cafe favors something creative and fashionable.
Project Facts:
Location: Chandigarh, India
Design Firm: Loop Design Studio
Area: 1750 sq. feet
Year of construction: 2020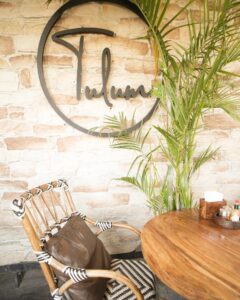 The Architecture of the Restaurant
In the brutalist Chandigarh environment, Tulum is an experimental paradox. It is a rooftop restaurant with expansive views of the city's skyline.
Tulum, which takes its name from the Mexican vacation spot of the same name, is designed as an overflowing, colloquial sanctuary. Natural stone, bamboo, terrazzo, wood, cane, plaster, and greens are used to bring the design's natural and earthy undertones together systematically.
The story begins in the atrium near the entry, decorated with ethnic abstract décor and bamboo wainscotting. As one approaches the restaurant, a rain of cane light fixtures falls from the ceiling, giving the area a dreamlike feel.
A water cascade and a bamboo archway enclosing and framing the view make up the entrance axis, a sensory and experiential delight. The tiny bamboo doorway opens to reveal a vibrant and inviting lounging space. Freestanding cane umbrella structures supported by actual tree trunks form a semi-permeable superstructure above in this surreal setup.
The envelope adds architectural interest and aesthetic appeal to the area while also serving as a sun shading tool. The restaurant's open pizzeria and bar are built utilizing a natural material palette of mosaic, stone, cane, and wood and are located on opposite corners of the space.
In one corner of the restaurant, which is supposed to resemble a cave, mud plaster was used to create the undulating walls. The curved walls wrangle the rigidity and produce a fluid space where surfaces self-convert into niches and benches.
The corner blends seamlessly with the rest of the room while still radiating its energy. Tulum is a tribute to nature and local cuisine to offer city dwellers a unique dining experience.
Services Provided by Tulum Chandigarh
You may get a cup of coffee and a beverage at the Chandigarh Tulum Café. Chandigarh's expanding cafe industry offers delicious coffee and drinks to suit your tastes. Here are the services they offer.
1. Freedom
Variety is something that freedom offers. Freedom gives people freedom and joyful moments as they pursue their aspirations. Tulum Jungle Roof Chandigarh gives you the flexibility to consume drinks and distinctively sample a variety of libations.. It would be best if you incorporated freedom into your way of life, and doing so will motivate you to fight harder.
2. Uplifting
Café in Tulum In the area, Chandigarh is a well-known coffee shop. The key theme for them is the upliftment of the community without conflict. The goal is to create a distinctive and delectable beverage that is secure to consume again. The primary purpose of Tulum Café Chandigarh is to transform a fantastic location while also boosting the value of that location. They think the true potential will revolutionize their industry.
3. Creativity
Chandigarh owns a rainforest roof in Tulum, A unique coffee shop with a jungle-themed ceiling. The coffee business is rewarded and fulfilled at a higher level because it recognizes the vision. They use creativity and originality to run a thriving coffee shop in their community.
4. Socializing
The cafe is all about the neighborhood. Owning a coffee shop implies having fun while mingling and meeting great folks who are gathered nearby and enjoying your favorite coffee. It is one of the best possibilities with a beneficial effect on life to socialize with people and feel connected to them. It does a terrific job of bringing people together for genuine socialization with a fun idea in Tulum Chandigarh.
5. Passion
One of the fantastic and alluring items is coffee. People are typically passionate about it since they enjoy indulging in it. Drag your attention to the Tulum Chandigarh menu item. You can order smoky drinks, hot teas, lemonade, sweets, iced teas, mocktails, and more from the menu. All of this has a distinct flavor and taste. Count on your devotion because coffee is one of the fantastic goods that cannot be overlooked.
Wrap Up!
Tulum Chandigarh has developed a distinctively designed café that offers flavored refreshments as usual. In addition to that, it has a fantastic ambience inspired by the Tulum environment, which is a Mexican vacation spot. Enjoy the day with your friends and family and, if possible, refrain from transgressions.
Visit Tulum-Jungle Rooftop Restaurant in Chandigarh and take advantage of the beverage and exceptional cuisine daily. You can reach them online at any time for further information.
Also Check: About Goa