Darjeeling: History, Tourist Spots, Climate, Trekking & Culture
Travel is an amazing thing in human life. If someone wishes to explore themselves, travelling to the best and different places is the right choice. Travelling to the hill stations will help heal your wounded heart, broaden your knowledge, etc.
How many of you have travelled to Darjeeling in your life? Mostly everyone knows that place as the queen of hills, but no one has the deep knowledge about it.
Some travellers highlighted that people should visit Darjeeling at least once in their life. And they say it is worth seeing alone or with your family or friends.
It has so many interesting things to know about the Darjeeling and if you are interested, follow the points. In this post, you will look at all the essential details about Darjeeling, such as history, culture, tourist spots etc.:
1. History of Darjeeling
It is always good to know about the history of the place you visit. Darjeeling town was once part of Sikkim but later became part of British India and is now part of the Indian state of West Bengal.
The history of Darjeeling town and its surrounding hill districts is entwined with the histories of Nepal, Sikkim, Bhutan, Bengal, and Great Britain.
When Darjeeling is part of the Sikkim state, it has become an important buffer state between Nepal and Bhutan.
The British, utilising the area as a sanitorium, discovered that the climate was ideal for tea cultivation and began growing tea on the Darjeeling hills soon after. Darjeeling tea is still a famous Darjeeling export.
European planters and supporters purchased large swaths of the surrounding hillside and converted them into tea gardens. Darjeeling has seen an influx of migrant workers.
The Darjeeling Cart Road was connected to existing tracks and walked in the hills, which were renovated and dubbed "roads." Carts and pack animals carried "potatoes and oranges from Nepal, wool and salt from Tibet, as well as countless groups of labouring immigrants" to Darjeeling. Like Simla, the summer capital of India, and Nainital, the summer capital of the North-Western Provinces, both in the Himalayan tracts, Darjeeling eventually became the summer capital of the Bengal presidency.
2. Lists of Tourist spots
One of the unbeatable reasons to visit Darjeeling is it has several places to visit and spend time happily. You will enjoy each tourist spot in Darjeeling and learn about the spots which are highlighted below:
• Singalila National Park
Singalila National Park is among West Bengal's highest highlands, with an elevation of approximately 2134 metres above sea level. The park is recognised for its spectacular peaks and panoramic vistas of the smaller Himalayan range.
With a diverse range of hilly vegetation, fauna, and birds, the National Park is known as a trekker's paradise. Red Pandas, Black Bears, Leopards, Tigers, Leopard Cats, Barking Deer, Wild Boars, Pangolins, Takins, etc. are among the uncommon and endangered species found in the area.
• Tiger Hill
The tourist guide of Darjeeling will highlight Tiger Hill as one of the best tourist spots in Darjeeling. If you want to see the first rays of the sun touch the twin peaks of Kangchenjunga and a panoramic view of Everest peeping through the peaks surrounding it, Tiger Hills is the place to be.
Kurseong may be seen to the south, as well as many rivers flowing down. Another local attraction worth visiting is the Senchal Wildlife Sanctuary, which is home to various high-altitude animals and birds. The trip begins at 3.30 a.m. from Darjeeling and ends at 4.15 a.m. in Tiger Hill.
• Darjeeling Himalayan Railway
The Darjeeling Himalayan Railway (DHR) is a 2-foot narrow gauge railroad route between New Jalpaiguri and Darjeeling. The centrepiece of this 88-kilometer railway track is the small train that gushes through the misty mountainside and offers spectacular vistas of the valley.
The building of this extraordinary railway initiated in 1879 and was finished in around two years. It was selected as a UNESCO World Heritage Site in 1999 due to its regard as a tourist destination. The toy train ride at Himalayan Railways Station is both exciting and relaxing. One of the things you should not miss when in Darjeeling is a ride on the miniature train.
• Darjeeling Ropeway
Darjeeling is India's first cable car system, with service beginning in 1968. There are 16 cable cars in all, and each can hold up to 6 people. The thrilling cable vehicle takes passengers to a height of 7000 feet.
This exhilarating journey begins at Northern Point in Singamari and ends at Singla Bazar's banks of the lovely Ramman River. During the trip, you will have a breathtaking view of the Kanchenjunga Range's mountain ranges. Observing the mountains below you while moving above them gives the impression of flying above the highest peaks.
• Batasia Loop
Batasia Loop is a train halts point on the Siliguri – Darjeeling route, located just below Ghoom Railway Station. It is a British-era technical marvel built to mitigate a steep drop when the train passes through Ghoom station on its way to Darjeeling.
Watching the miniature train go around the circle is a terrific pleasure. If you don't want to ride the toy railway, you can drive there from Darjeeling town. A Gurkha Soldiers battle memorial is located in the heart of the Batasia Loop, surrounded by a garden. There will be an assurance of joy and thrill for the tourists in this spot.
• Happy Valley Tea Estate
The Happy Valley Tea Estate, which spans 437 acres and sits at an elevation of 2,100 metres above sea level, is one of Darjeeling's most popular tourist destinations.
Few of the India's most breathtaking sceneries enclosed this location. It also boasts one of the world's tallest tea factories, founded by an Englishman in 1854 and then taken over by Indian nobility from Hoogly. The months of March to May are the busiest time for this happy valley tea estate.

• Padmaja Naidu Zoological Park
Padmaja Naidu Himalayan Zoological Park in Darjeeling, with an average elevation of 7,000 feet, provides guests with an amazing trip experience.
The park opened its doors in 1958 and has since been home to various animals. The park is well-known as a breeding ground for species that have adapted to living in alpine environments.
Various breeding initiatives have been accomplished here. The Red Panda Program, among others, has been handled by the park. In addition, the park aids endangered creatures through captive breeding initiatives. Don't miss to have a visit to Himalayan bears, clouded leopards and Tibetan wolves.

• Japanese Peace Pagoda
It is a Buddhist shrine part of a global network of 30 such monuments. The mark of the Pagoda is its white-based construction, which is drawled by gold-painted statues.
Inside the structure are four Buddha avatars, including the well-known Maitreya Buddha. This ancient structure was built between 1885 and 1985 by a Japanese Buddhist monk Nichidatsu Fuji and is still one of Darjeeling's most popular tourist attractions.
The construction of the entire structure took roughly 36 months to complete. The primary goal of erecting this monument was to promote peace, harmony, and goodwill among people of all cultures and faiths.
• Himalayan Mountaineering Institute
The Himalayan Mountaineering Institute (HMI), founded in 1954 by Pandit Jawaharlal Nehru, is a prominent institution for promoting mountaineering as a sport.
It was named after mountaineers Tenzing Norgay Sherpa and Sir Edmund Hillary, who climbed Mount Everest to the top in 1953. There is a well-kept museum and an activity zone on the premises.
A large collection of mountaineering equipment is one of the main attractions for visitors. It is one of Darjeeling's must-see tourist attractions for those interested in learning about mountaineering activities. HMI offers a variety of mountaineering training, from beginner to advance.
• St. Andrew's church
St. Andrew's Church is one of Darjeeling's most magnificent structures, and it is situated on Darjeeling's most famous tourist attraction, the Mall Road or Chowrasta. It is one of the oldest and most beautiful churches in the Darjeeling Hills, built by Britishers in the 18th century.
On November 30, 1843, on St. Andrew's Day, the foundation stone for this church was set. We may remark that it is a gem that adds to the beauty of the location. In 1883, the clock tower was built with a bell that chimes every hour, which could be heard throughout Darjeeling. A congregation of roughly 200 people can be accommodated in the church.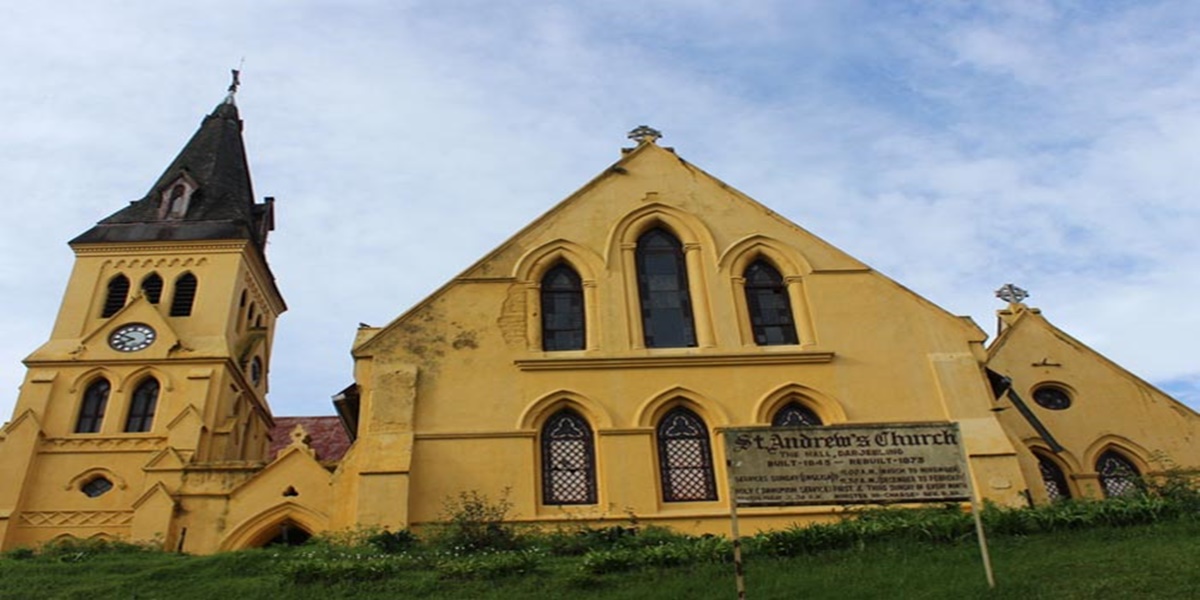 3. Climate of Darjeeling
Darjeeling is a bizarre hill station in the Himalayan foothills, so it is no wonder the best time to visit is all year. Spring, summer, autumn, winter, and the monsoons are the five distinct seasons of Darjeeling's temperate environment.
• Summers are pleasant, with temperatures rarely exceeding 25 degrees Celsius where 77 degrees Fahrenheit.
• The monsoon season, which lasts from June to September, is marked by intense heavy rains, frequently resulting in landslides that cut off Darjeeling's land access to the rest of the country.
• Darjeeling is frequently shrouded in mist and fog throughout the monsoon and winter seasons. The typical winter temperature is 5–7 °C (41–44 °F). Temperatures drop below freezing on occasion, but snow is uncommon.
• The yearly average temperature is 12 degrees Celsius (53 degrees Fahrenheit), with monthly average temperatures ranging from 5 to 17 degrees Celsius (41 to 62 degrees Fahrenheit).
• The highest temperature ever recorded in the district was 26.7°C (80.1°F) on August 23, 1957, and the lowest temperature ever recorded was -6.7°C.
You can visit Darjeeling any month, and various tourist spots are highlighted for different months and seasons.
4. Trekking in Darjeeling
Trekking is a multi-day outside actions that includes walking. It is a strolling done with the intent of exploring and enjoying the scenery. Trekking can serve as a motivation, an aim, an objective, a mission, a celebration, or a social gathering. It might be where you meet new people and embark on a trip.
Tonglu trip, Sandakphu and Singalila walk, and Phalut trek are all safe trekking options in Darjeeling. Experts said that in Darjeeling, going trekking is a great thing to do. You will be walking through forests of oaks, ferns, chestnuts, and magnolias.
There are approximately 120 species of birds in the Singalila range, which is one of the most popular hiking routes in the Darjeeling area. There are around 400 bird species in the Darjeeling area.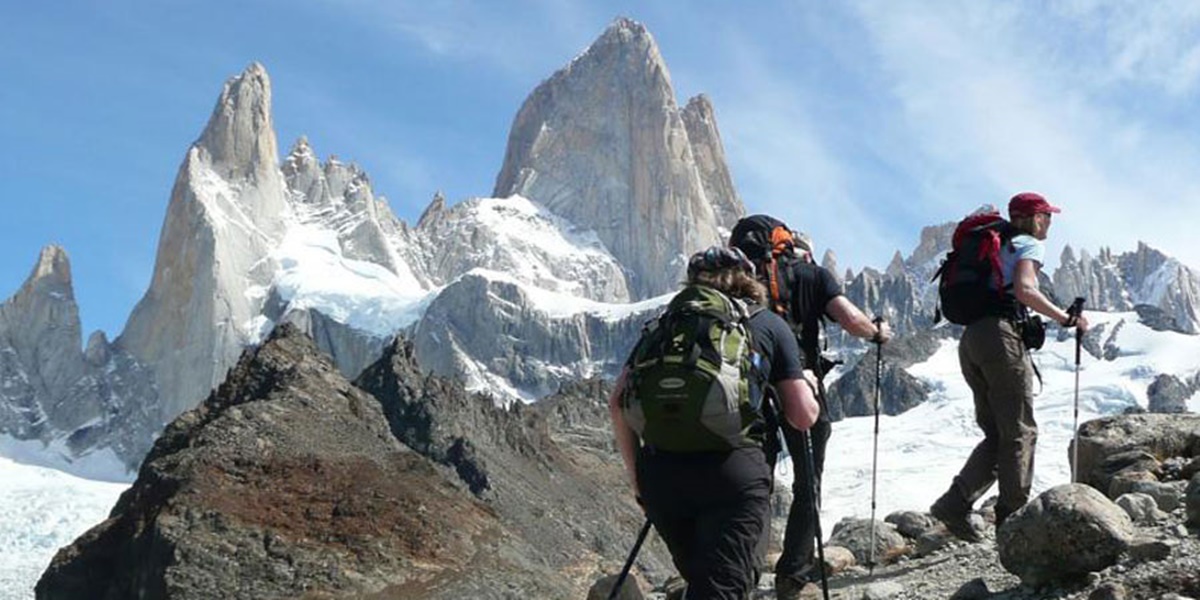 5. Culture of Darjeeling
The term 'culture' has a broad definition, encompassing anything the human intellect can produce or do.
• Language – Nepali, Bengali, Hindi, and English are the most widely spoken languages in Darjeeling. Bengali is the plains' official language. Tibetan refugees and certain indigenous people talk to Tibetan.
• Religions – Darjeeling's principal religions include Hinduism, Buddhism, Christianity, and, to a lesser extent, Islam.
• Food and Drinks – While satisfying your gastronomic cravings, you can pamper your taste buds with unique but homey meals and explore a tapestry of cultural delicacies. Darjeeling has the best to give you, whether the omnipresent momo or thukpa, whose fabled flavour has spread across the Himalayas with migrant Tibetans or the dishes with lemongrass from south-east Asia.
• Dance – Khukuri Naach, Jatra Naach, Damphu Naach, Maruni Naach and many more are some of the famous types of dances in Darjeeling. Mostly all the dances are devoted to gods and goddesses.
• Health Tourism : Hair Transplant, Dental Implant treatment and Smile Design operations are among the best locations
• Festivals – Durga Puja, Saraswati Puja, Deepavali, and Shivaratri are the most important festivals in Darjeeling. It lasts for several days, with one day dedicated to observing/worshipping crows, dogs, cows, and oxen, followed by Laxmi Puja with bhailo, design, and other offerings. The houses are lit up with lights during the Deepavali holiday, and the spirits are high.
Wrapping it up:
Now you have clear knowledge about Darjeeling, and now you can plan your travel or trip to Darjeeling and enjoy the moments in that place. Darjeeling is famous for various products, including tea and woollen items such as shawls, scarves, caps, and jackets.
Darjeeling also has a variety of handicrafts and unique Tibetan products that make excellent souvenirs. Darjeeling is a wonderful spot to unwind and relax, and you will be pleased to learn that it also has some retail therapy alternatives.