GANDAKI GOLDEN BRIDGE – NEPAL
GANDAKI GOLDEN BRIDGE
The Gandaki Golden Bridge is a suspended footbridge with a span of 567 m over the Kaligandaki River. The height of the bridge is 122 m from the river level. Gandaki bridge connects the Kusma Municipality of Parbat district  at Aduwabari with Baglung Municipality 1 bangechour of Baglung in Nepal. The bridge is the second longest bridge of its kind in May 2022 after the opening of Sky Bridge 721 in Czech Republic, prior to that it was the world's longest foot bridge. Gandaki Golden Bridge has a capacity of 85 MT and can carry the load of 612 people at a time.
An executive meeting of Baglung Municipality, took a decision in this regard. The bridge's name in Nepali and English has been approved said the municipality mayor Janak Raj Poudel. The municipality had called for interested people to propose the name of the bridge. The municipality has also announced Rs 25,000 for selected applicant. Only 10 names suggested by the applicants had been recommended. Civil servant Ghana Shyam Sapkota of municipality has selected 5 for the award.
Construction of Gandaki Golden Bridge
The study of Gandaki Golden Bridge was done in 2059 BS and construction was started in Chaitra, 2075 BS with a schedule to complete in Asar 2077 BS. The construction was completed three months ahead of schedule in July 2020 but the handover of the bridge was delayed due to COVID-19 pandemic.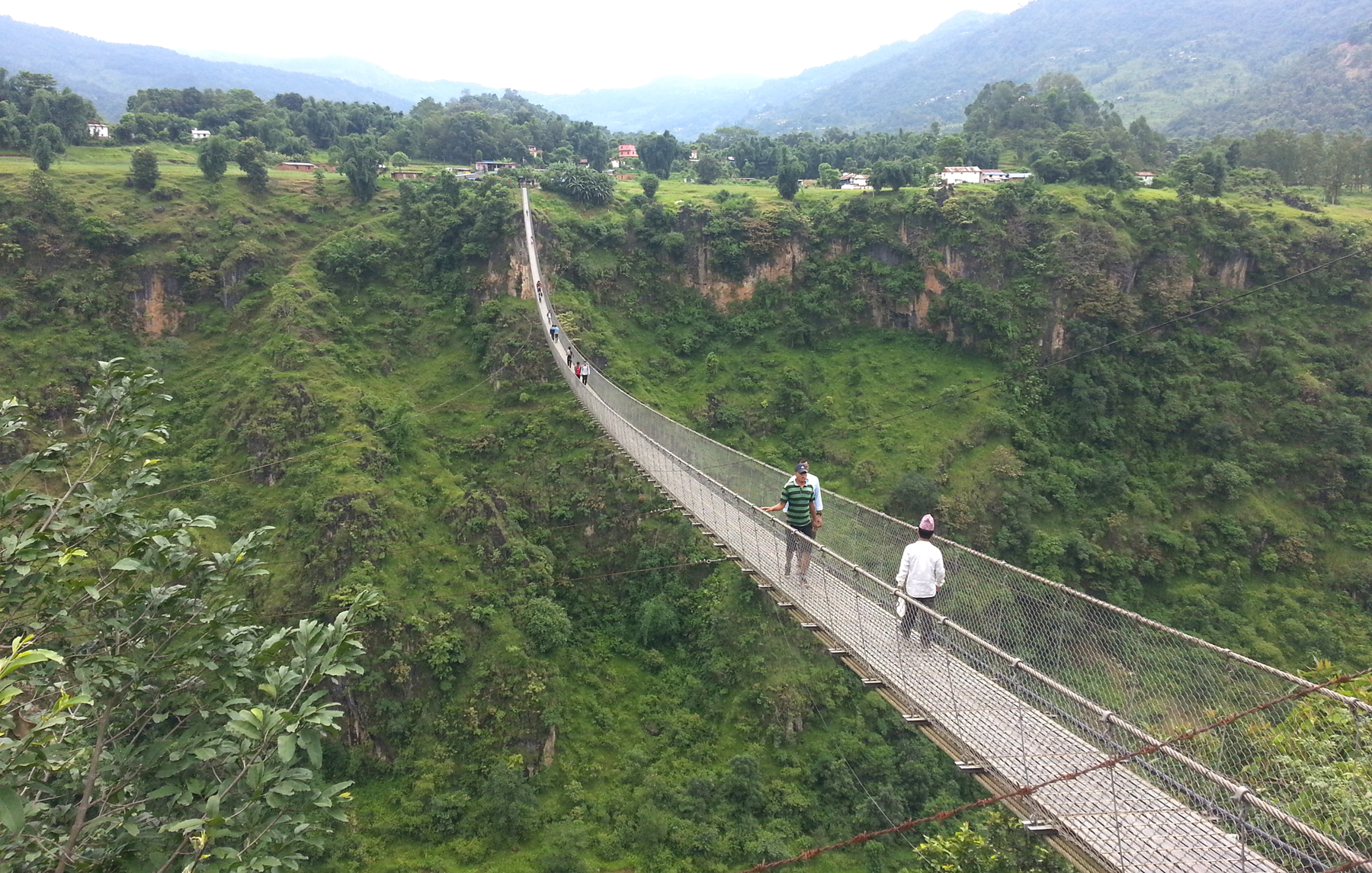 Costing of Gandaki Golden Bridge
According to Sagar Ram Nepal, Engineer of the Contract Management Branch of the Suspension Bridge Division Office, Kathmandu, the initial cost estimate of the Gandaki Golden Bridge was NPR 122,200,000, however the Government of Nepal subsidized the construction with the final cost amounting to NPR 69,100,000.
Places to Stay near Gandaki Golden Bridge 
| | |
| --- | --- |
| Hotels | Distance |
| Hotel Peace Palace | 1.1 km |
| Hotel Mountain view inn | 8.7 km |
| The Heritage at Mallaj | 10.2 km |
| Hotel Benju | 3 km |
| Panchakot Camping | 3 km |
| Hotel Yeti | 10.3 km |
| Hotel Dolphin | 9.9 km |
| New Shikha Hotel | 10.4 km |
| Asha Hotel & restaurant | 18.3 km |
| Hidden Paradise | 26.1 km |
Distance from Major cities to Gandaki Golden Bridge:
Meerut– 880.5 km
Delhi– 1,022.6 km
Mumbai– 1,849.6 km
Lucknow– 470.2 km
Jaipur– 1,041.7 km
Surat– 1,705.9 km
Bengaluru– 2,282.7 km
Kolkata– 1,061.2 km
Hyderabad– 1,691.6 km
Chennai– 2,315.9 km 
Keep visiting define places for latest updates.