PARVATI VALLEY – Himachal Pradesh
Parvati valley is situated in Himachal Pradesh it runs along the touristy destination of the state. This stunning valley is famous for the adventure activities and backpacker hangouts. Parvati valley is joined by many smaller tributaries along the way that result in beautiful cascading waterfalls. Clear view of the Himalayan mountains greets the visitors as they indulge in camping, river rafting and trekking.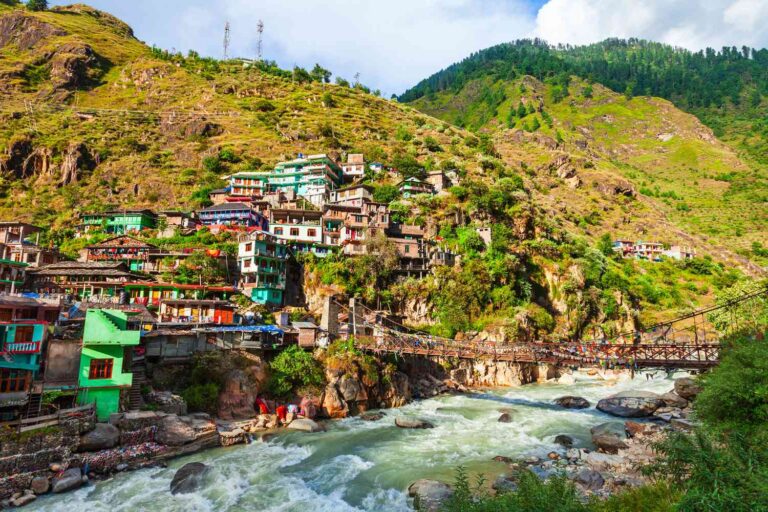 Main Points of Parvati valley trek
Level: Easy
During the time of trek your backpack should not exceed 10 kgs.
Proper training and conditioning of body is required.
There are beautiful landscapes so you must carry a camera & extra battery backup.
Shoes are the most important thing.
Some must read points about Parvati valley Trek
Starting point: Kasol
Level: Easy
Best time: Summer months
Highest point: 3500 m
Duration: 4 days ( Bhuntar to Bhuntar)
Summer Temperature: Day (15 ֯C to 20 ֯C )
Night ( 5 ֯C  to -7 ֯C)
Winter Temperature: Day ( -3 ֯C to -5 ֯C )
Night ( -5 ֯C to -10 ֯C )
Places to must visit in Parvati valley
1.

Gurudwara Sahib Manikaran
Gurudwara Sahib Manikaran is one of the most famous Sikh pilgrimage sites near Manali. It is situated on the right bank of the Parvati river. It is said that the place of Manikaran Gurudwara Sahib is the exact meditative point of Guru Nanak Dev.
2.Tosh
Tosh village is located in Himachal Pradesh state of India. It is popular for its cannabis plantations, the tosh village is just another example of the unparalleled natural beauty that Himachal holds within its bounds.
3.Kasol Bridge
The bridge looks very normal but it was remarkably adventurous. The Bridge is going towards Kasol valley over Parvati river was continuously moving with strong waves & winds because of the strong winds of the Parvati river.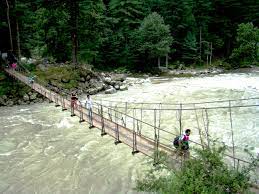 4.Chalal
Chahal is located at 30 minutes walk from kasol, crossing a suspension bridge over the Parvati river and passing through green forests. This place hosts some of the most happening trance parties. Magica festival helds in early summer is the biggest event of this place. On other days, the village is favored by campers, birdwatchers and nature lovers.
5.Malana
It is an ancient village in the state of Himachal Pradesh. Malana is famous as the perfect tourist destination. The location is surrounded by lush green forest and incredible valleys, which attracts tourists to visit this place.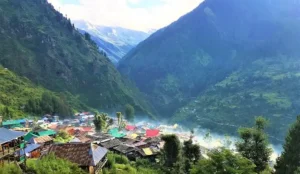 6.Kasol
It is a small village in Himachal situated along the banks of Parvati river. Kasol is a tourist attraction which is rapidly gaining fame as a popular hub for trekkers, nature lovers and backpackers. Kasol is commonly known as the ' Amsterdam of India' it is famous for natural scenic beauty.
7.Kheerganga Trek
Kheer ganga lies at the end of Parvati valley. It is a holy place with hot water spring, a small temple of Lord Shiva and bathing tank. It makes a rare combination for all tourists to bath in hot water when everything is covered by snow.
8.Pulga
Pulga is a small village located in Parvati valley 3 km from Barshaini. Pulga village is known for its scenic beauty and wooden homestays located amidst denser deodar trees, apple orchards and waterfalls Pulga is one of the three village close to Barshainialong  with Tulga and Kalga and located at an altitude of 2,210 m above the sea level.
9.Grahan
Grahan is relatively less popular attraction in Himachal Pradesh. Grahan village is located at an altitude of 2,300 m and it is also known as the Spiritual village. The village is home to few residents and is known for the cultivation of potatoes, apples and hashish.
10.Kutla
A small village in Parvati Valley, Kutla is situated at an altitude of 2,800 m and it is the perfect destination for nature watching and trekking.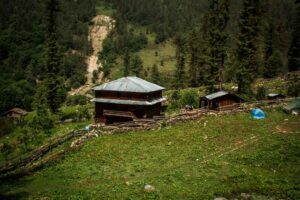 Places to stay in Parvati Valley 
| | |
| --- | --- |
| Hotels | Prices |
| Royal Castle | Rs 6,549 |
| PerkUp Hostel | Rs 3,538 |
| North Deodar Camps | Rs 4,246 |
| Dream Valley Home Stay | Rs 2,124 |
| Nomads Hostel Tosh | Rs 2,948 |
| Parvati Kuteer | Rs 2,950 |
| Jungle Hostel | Rs 2,948 |
| Breathe Inn | Rs 1,433 |
| go STOPS Kasol | Rs 3,687 |
| Olive Garden Classic | Rs 2,124 |
Places to eat in Parvati Valley 
1-  Evergreen
2- Panj Tara & Grill
3- The Smoke Kasol
4- Cafe Kasol
5- Namaste Cafe
6- Ninza momo's
7- German Bakery & Cafe
8- Samy Homestay & Cafe shilha
9- Mary Jane Restobart
10- Smile Place Manikaran
Timings to Visit
The best time to visit Parvati valley is during post monsoon months of October to February or summer months March to June. It is best suited time for campers and trekkers as the weather is pleasant for long walks under clear blue sky.
How to Reach Parvati Valley
By Air
The nearest airport to visit Parvati valley is Kullu Manali Airport in Bhuntar. You can hire a taxi from outside of the airport to reach at the valley.
By Rail
The nearest railway station is Joginder Nagar railway station. You can hire a taxi or cab from outside of the railway station this will take about 4 hours to reach the valley.
By Road
This is the best way to plan a Parvati valley trip. Once you cross Chandigarh and enters the hills the magic of greenery and the sound of music will keep you refreshed at your journey you'll experience decent roads for your journey.
Frequently Asked Questions (FAQ)s
Que- How many days are enough to explore Parvati valley?
Ans- 5-6 days are enough to explore Parvati valley.
Que- Is it safe to visit Parvati valley?
Ans- Yes, it is safe to visit Parvati valley.
Que- Where is Parvati valley situated ?
Ans- Parvati valley is situated in the Kullu district of Himachal.
Que- Is there 3G/4G network available in Parvati valley?
Ans- Yes, Airtel and Jio have best 3G/4G network.
Que– Do visitors need to carry food along with them?
Ans- There is no need of carrying food every place have a hotel or cafe.
Keep visiting define places for latest updates.