LIDDER VALLEY – JAMMU & KASHMIR
The Lidder Valley also pronounced as Liddar Valley is a Himalayan sub-valley in the union territory of Jammu & Kashmir, India. The Lidder River flows down the Lidder Valley. The entrance to the Lidder valley lies 7 km northeast from Anantnag town and 62 km southeast from Srinagar. Lidder valley has two tributaries in the Anantnag district- Lidder West and Lidder East. The valley is 40 km long with an average width of 3 km.
There are mountains all around the valley with lush green forest but have enough space for the main street to run along the river and for visitors to reach next to streams and tourists can also wet their feet in the snowmelt from the mountain peak. Walking near the Lidder river is a rejuvenating experience for everybody. During the summer months, and on holidays, the riverside in the city can be seen full crowded due to massive crowds with groups and families and friends in a picnic mode. For outside experience you can try the golf course into Laripora village.
Speciality of Lidder Valley
The valley provides fresh water supply to many districts and irrigation for agriculture. The Lidder river flows through the entire valley passing natural landmarks and tourist spots including Pahalgam, Aru, Akad and Betab Valley.
Things to do in Lidder valley
If you are thinking what to do in Lidder valley, let us tell you it is a wonderful place with lots of activities to do. Here is the list of best things to do in Lidder Valley. Take a look
Golfing
Skiing
Trekking
Mountain Biking
Paragliding
Mountaineering
Bird Watching
Horse Riding
Ice Skating
River Rafting
Places to visit in Lidder valley
1.Lidder Amusement Park
Lidder Amusement Park in Pahalgam is a excellent park for an outstanding time with your loved ones. It is just not a land for sightseeing but also allow you to seize a self found moment for yourself. So as per my advice you must visit this place once in your life time when you want to make some memories and refresh your mood.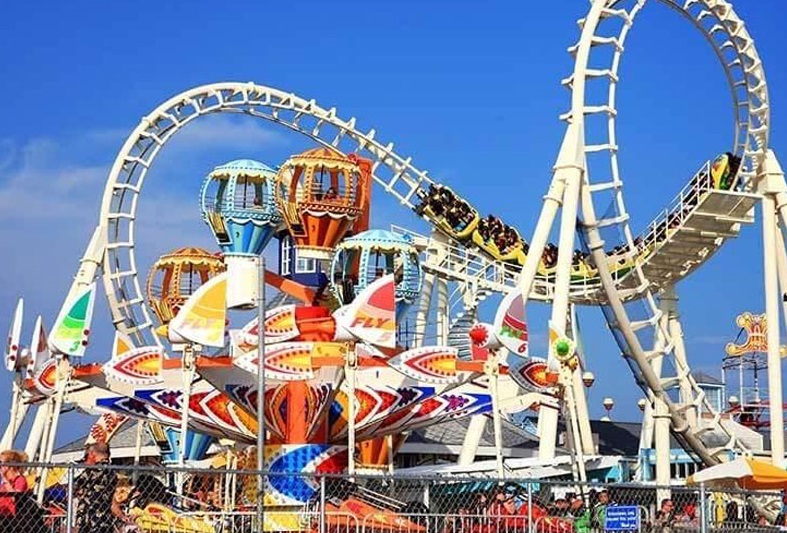 2.Shri Amarnath Cave Temple
Shri Amarnath Temple is a Hindu Shrine situated in Anantnag district of Jammu & Kashmir, India. Cave is situated at an altitude of 3,888 m about 168 km from Anantnag, the district headquarter. Amarnath temple represents an important part of Hinduism. The cave situated in Lidder valley is surrounded by glaciers and snowy mountains and is covered with snow most of the year.
3.Chandanwari
Chandanwari is known for being the starting point to the famous Hindu pilgrimage site, Shri Amarnath Yatra which starts on June and end in the August. Chandanwari is situated at an elevation of 2,895 m and located about 16 km from Pahalgam. This place is covered with snow from November till the month of May and you can also watch the lovely sight of glaciers melting in Lidder Valley.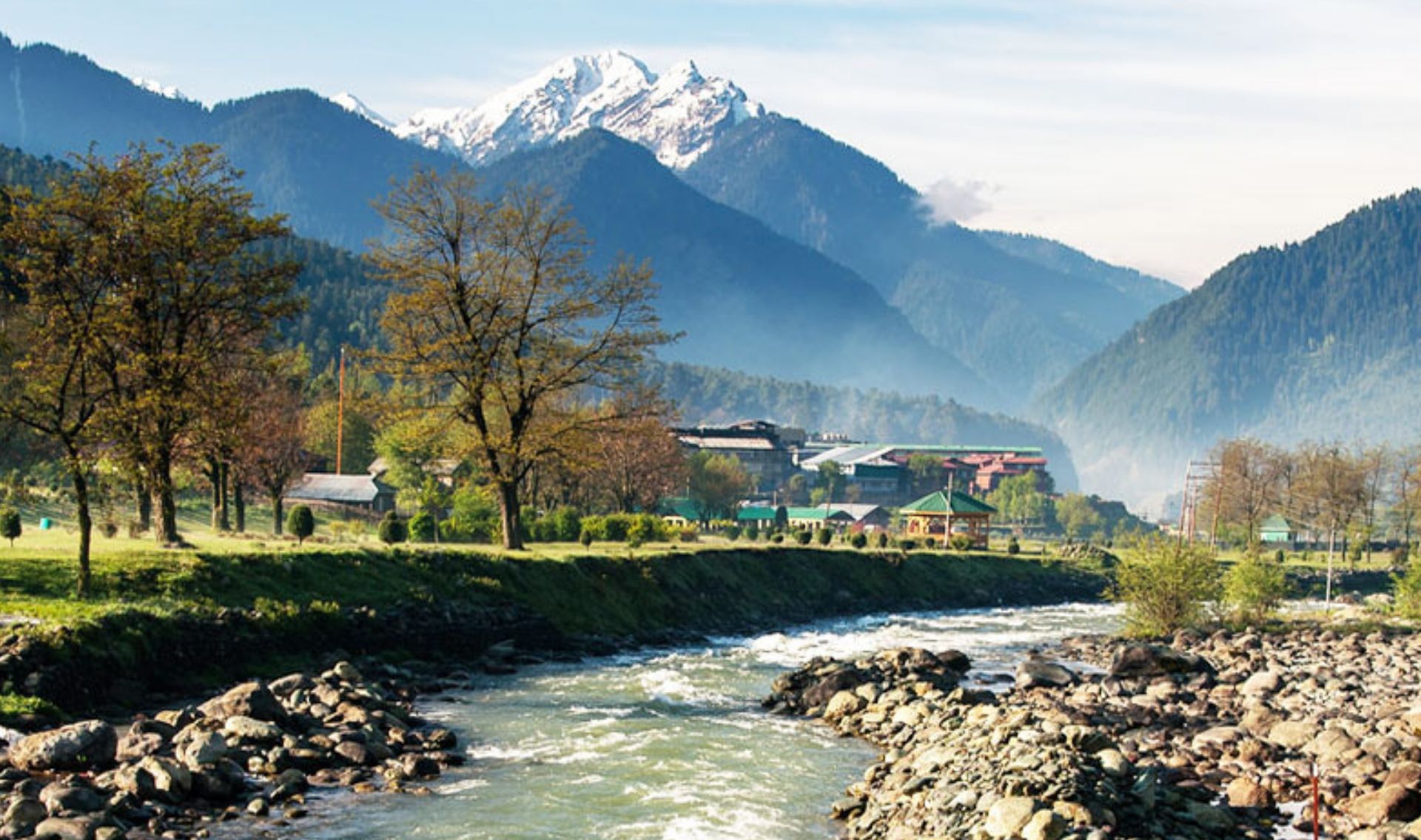 4.Sheshnag
Sheshnag is a lake located almost 17 km from Pahalgam at an altitude of 3,590 m approx. The greenish water of the lake is the home to a variety of fish including the brown trout. Sheshnag lake is surrounded by the mountains and snowcapped mountains. This lake is associated with many mythological legends one of which states that it belongs to Sheshnag. Lords of the Snakes himself.
5.Aru
Aru is a small village in the Anantnag district of Jammu & Kashmir, India. It lies 53 km from Anantnag city. It is situated around 12 km from Pahalgam and 11 km upstream from the Lidder river. Aru is known for its lakes, mountains and scenic meadows. Aru village lies on the left bank of the Aru River. Jammu & Kashmir's biggest fodder seed product station is also located in Aru.
6.Mamaleshwar Temple
Mamaleshwar Temple is dated back to 400 A.D and is mainly devoted to Lord Shiva. Mamaleshwar temple is elevated at the height of 8800 ft above the sea level on the banks of Kolahoi. Mamaleshwar is also known as Mammal temple.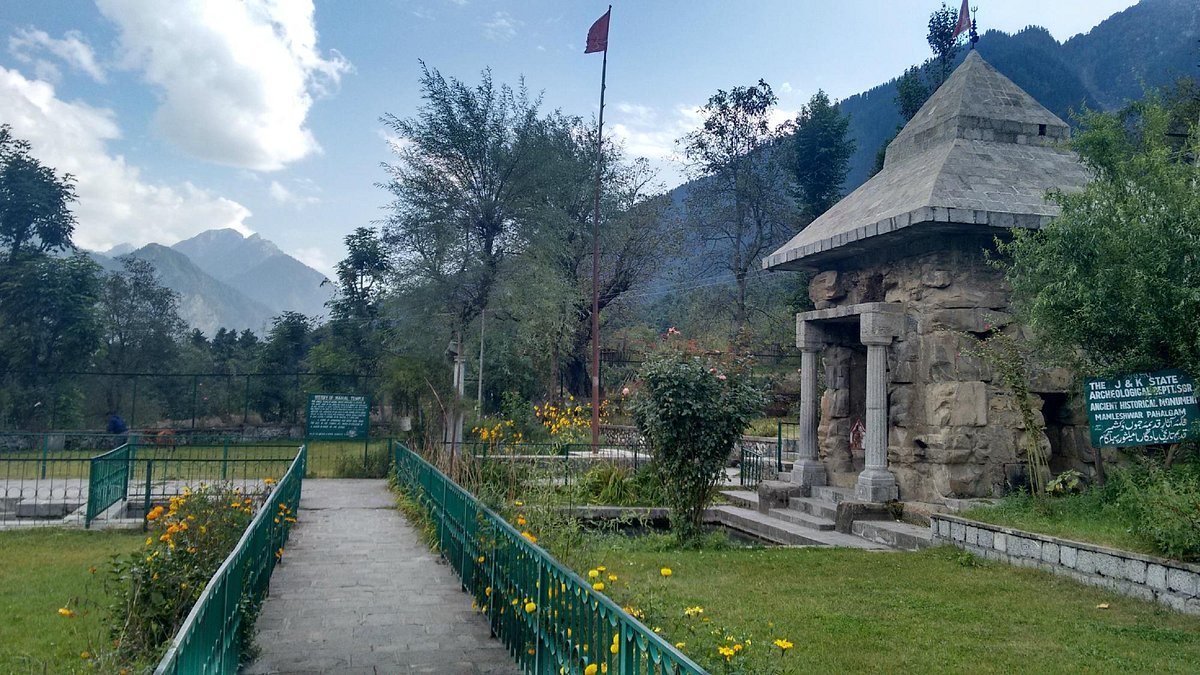 7.Pahalgam
Pahalgam is one of the famous tourist place of Jammu & Kashmir state. It is situated in the north east of Anantnag among lofty hills covered with forests. Pahalgam is also famous for being a starting point of Amarnath yatra in which many peoples participate annually. The best time to visit Pahalgam is from March to December because the climate is great to wander and explore the place.
8.Gulshan Park
Gulshan Park is a beautiful eco park surrounded by flora & fauna is situated in the small town of Aishmuqam and is a good destination to have a peaceful time. The address of Gulshan park is Housing colony, Chanapora, Jammu & Kashmir 190005.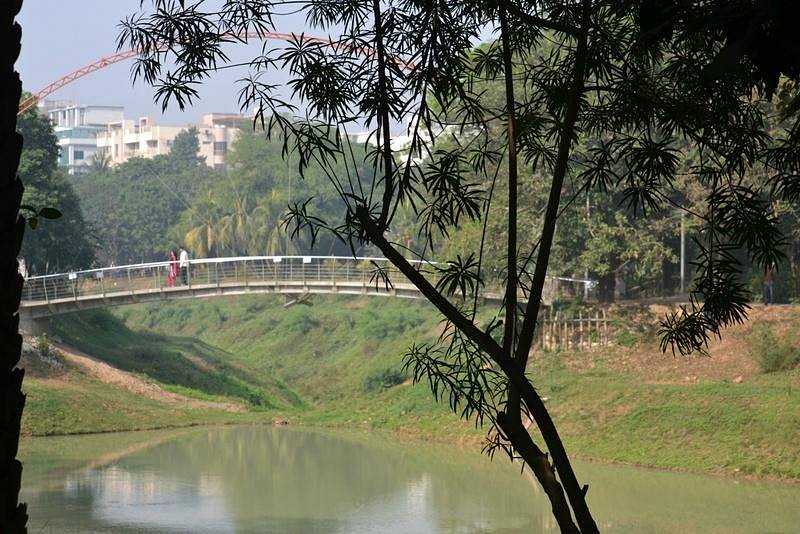 Places to Stay in Lidder Valley
| | |
| --- | --- |
| Hotels | Prices |
| Brown Palace | Rs 3, 450 |
| Hotel Himalaya Discover resorts | Rs 3, 379 |
| Hotel outlook | RS 4,826 |
| Paradise Guest House | Rs 2, 392 |
| Hotel Noor Mahal | Rs 2,150 |
| Impex Hill Resorts | Rs 2,327 |
| Kashmir Mahal Resorts | Rs 3, 798 |
| Grand Heritage Resorts | Rs 1,357 |
| Hotel Mahtab Resorts | Rs 4,368 |
| Hotel Akbar Sonamarg | Rs 4,988 |
Places to eat near lidder Valley 
Lal Chowk Mughal Darbar
KP Road Anantnag
Crispice The Café N Grill
Trout Beat
Shahi Bakery
New Arsh Restaurant Bijbehara
Mini Switzerland @ Pehalgam
Manqaki Bakery Nowdal Road Tral
Timings to Visit Lidder Valley
Lidder valley is a summer destination so the best time to visit Lidder is summer months or we can say that starting summers is the best timings to visit the valley. From April to August are the best months to plan a trip here. There is heavy snow in the winters due to the temperature falling at – 40 degrees Celsius which stops you from trying things and it has pleasant weather to spend days with your friends and family.
How to Reach
By Air
Srinagar airport is the nearest airport that is 62 km away from the Lidder valley. This airport is also called as Shaikh ul Alam airport, so do not get confused. Srinagar airport is well connected with major cities like Delhi, Mumbai, Bangalore etc. At the Srinagar airport taxis and cabs are available outside to take you to the destination.
By Rail
Lidder valley in Jammu & Kashmir can be easily reached by train, a junction is well connected with the major cities of India. It is advisable to take a train from any major city to Jammu Tawi which is located 245 km from Anantnag after reaching the railway station people can take taxis or buses available outside the destination by road.
By Road
A well laid networks of roads connects Lidder valley with rest of the Kashmir valley. Hiring a cab to reach at Lidder valley is the most comfortable option. Otherwise, regular bus service to Lidder valley at economical rates are available from major cities of India. From Jammu Tawi local taxis are available to drive visitors to Lidder.
Keep visiting define places for latest updates.