VALLEY OF FLOWERS – West Himalayan region of Uttarakhand
Grant with the rare and exotic Himalayan flora, the valley of Flowers is a bouquet of nature peacefully settle in the West Himalayan region of Uttarakhand. This valley is rich in varied flora and fauna. Valley of flowers is believed to have been discovered in 1931, when three mountaineers- led by Frank S Smythe lost their way and chanced upon this rare valley. Attracted by the beauty of the place they named it " Valley of flowers".
As the name suggests, It is a destination where nature blooms with full of glory offering a wonderful experience.Exotic flowers like poppies, marigold, orchids, primulas, anemones  and daisies are an eye-catching spectacle.The valley is also a home to such amazing and rare wildlife species like the flying squirrel, the Himalayan weasel, the gray langur, the red fox, black dear, the snow leopard, the lime butterfly, Himalayan moral and many more.The beauty of this valley has always attracts nature lovers and adventure lovers.
The valley of flowers was declared as National Park of India in year 1982 and now it is a UNESCO world heritage site. Valley of flowers spread over  area of 87 sq km in the Chamoli district,  valley of flowers National Park is the UNESCO world heritage site and also  forms one of the two core zones. The trek goes through dense forests, along with the river Pushpawati and can be reached by crossing many waterfalls, bridges and glaciers on the way. It is situated at an altitude of 3,600 m above the sea level. Valley of flowers national park presents an beautiful view and un forgettable experience for the visitors.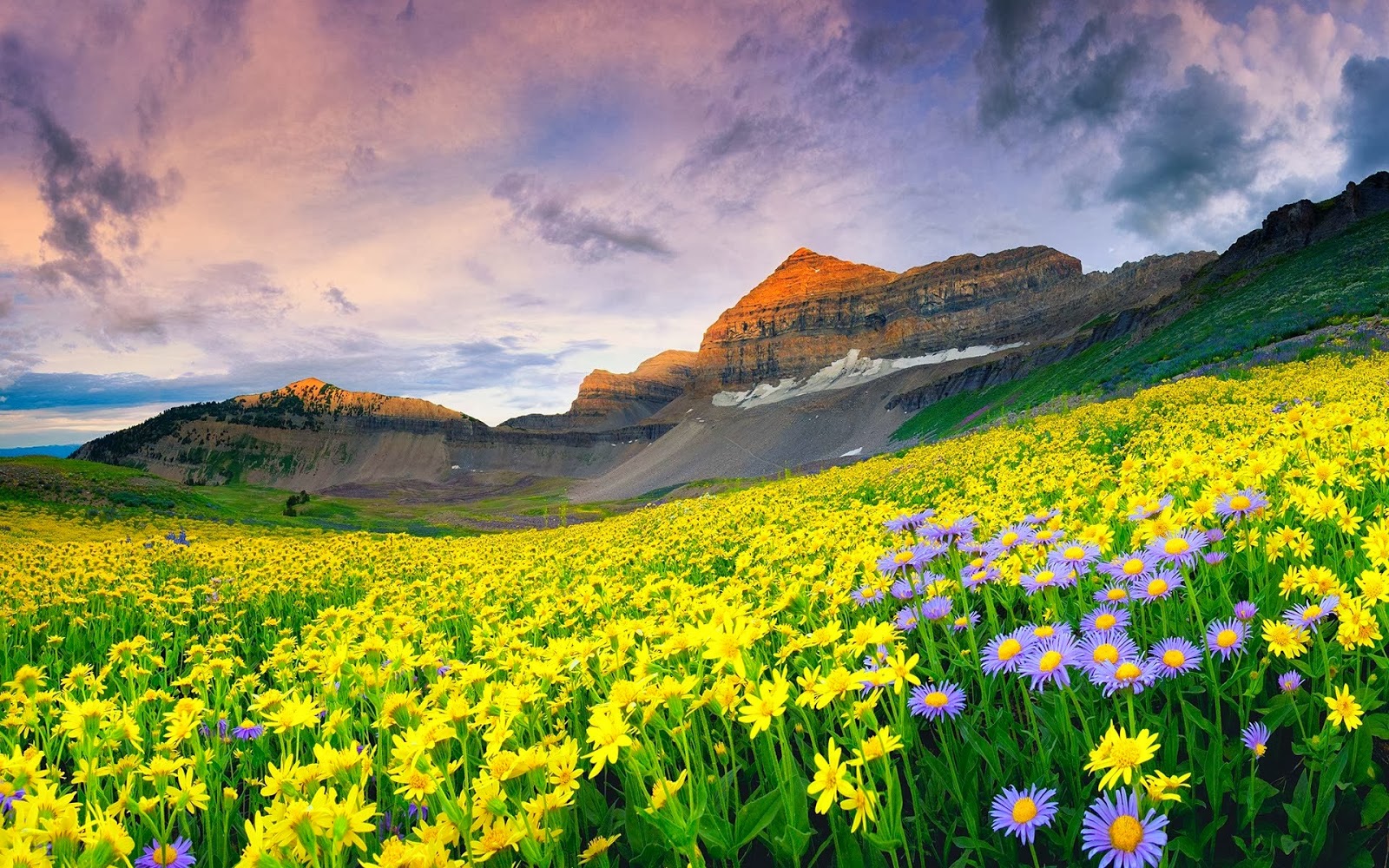 Highlights of Valley of flowers
There are numerous streams, waterfalls and lush green meadows during the trek to the valley.
Trek is easy
Many varieties of birds and butterflies
This valley is one of the beautiful valley in the world.
The valley changes its colour every 15 days, across the season.
Glaciers and snow capped mountains are visible from the valley.
500+ species of plants and flowers.
Top tourist attraction in Valley of Flowers
1- Badrinath Temple
Badrinath temple also known as Badrinarayan temple, based on the banks of Alakhnanda River in the hill station of Badrinath in Uttarakhand is a Hindu temple devoted to Vishnu. The are forms one of the four "Char Dham" spiritual journey spots.
2- Vasudhara Falls
Vasudhara falls is the beautiful and attractive waterfall found at Badrinath 9 km away elevated at 400 feet. It is also 6 km far from the Mana village. Which is regularly accessible during the period that Badrinath is opened for the tourists.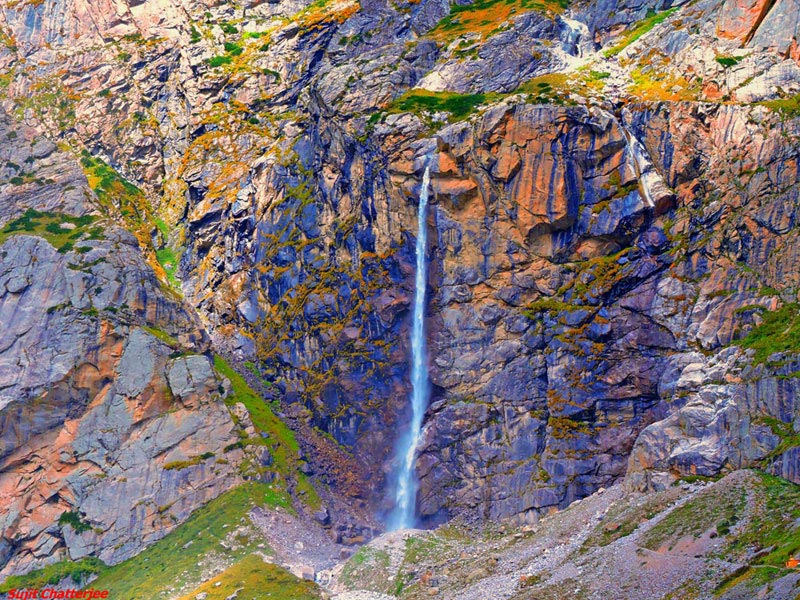 3- Gauri Kund
Gauri kund marks the start of 14 km trek to the Kedarnath. It is located at an altitude of 1,982  metres above the sea level. Gauri Kund is a pilgrimage site. It is believed that at this place Goddess Parvati had meditated for long time to win Lord Shiva as her husband.
4- Gorson Bugyal
It is a large land of green pastures surrounded by oak trees and forests. It is located at an altitude of 3065 m just only 3  km trek from Auli.
5- Mana Village
Mana is located in the district of Chamoli located at an altitude of 3,200 m. It is the last village between the border of India and Tibet/China in the Himalayas. This place is designated as a " Tourism Village" by the Uttarakhand government.
6- Pandukeshwar
It is a sacred village in the Chamoli district of Uttarakhand. It lies at an altitude of 6,299 feet. This famous pilgrimage center is  between Joshimath and Badrinath.
7- Niti Valley
Niti is the small village located in Niti valley of Joshimath. Niti Valley is the last village and outpost in Indo-Tibetan border in Chamoli district of Uttarakhand.
8- Malari
Malari is the small village near Indo-Tibetan border near Joshimath in Chamoli. The village is encircled by steep snow-covered  mountains. It is located in Dhauli Ganga Valley at the height of 3048 m.
9- Govindghat
Govindghat is a beautiful small place adorned by pilgrims and adventurers alike in the Chamoli district. It is located on the wat to Badrinath at the joining of Alaknanda and Lakshman Ganga Rivers.
10- Auli
Auli is the popular winter destination and hill station known for its snowy slopes. This place have everything that an ideal tourist dreamed for like adventure activities, Himalayan views, meadows and romantic vistas etc.
Travel Tips for Valley of Flowers
Tourists always should inquire about the road and weather conditions especially during the rainy season before planning a trip to valley of flowers.
The valley looks most beautiful in May, June and September. But the maximum no of flowers are in the month of July and August.
Tourists must carry extra Torch, pair of socks, Raincoats and extra batteries for your camera.
Entry to valley of flowers opens at 7:00 AM everyday and last entry is allowed till 2:00 PM. You should start to back around 1 PM so as to reach back by 5:00 PM.
Valley of flowers is opened from 1st June every year. The valley remains open from June to October.
 Opening and closing dates of Valley of flowers trek 2022
Opening
The valley of flowers is open for trekkers and tourists 1 June 2022.
Closing
Every year valley of flowers closes in the month of October/November. The exact date of closing will be updated soon.
Places to Stay in Valley of Flowers 
| | |
| --- | --- |
| Hotels | Prices |
| The Fern sardar sarovar resort, Kedvadia | Rs 13,274 |
| Hotel BRG Budget Stay | Rs 4,278 |
| Hotel VR Inn | Rs 2,016 |
| V J Homestay | Rs 2,912 |
| The Grand Unity Hotel | Rs 4,347 |
| Hotel Matodi | Rs 2,330 |
| Hotel Plaza Inn | Rs 1,848 |
| Hotel the Pramukh | Rs 5,000 |
| Hotel Sai Inn | Rs 3,165 |
Places to eat in Valley of flowers
Himalayan Abode Joshimath
Hotel Ganga Shree-Joshimath
Hotel Himsarovar
Sarovar Portico Badrinath
New Hotel Snow Crest
Auli Resort Royal Village
Mana- Last Indian Village
Shri Ananth Math-Badrinath
Panchvati Inn Hotel and Restaurent
Hotel Narayanpalace Badrinath
Timings to visit
The best month to visit Valley of Flowers is August to mid September.
| | |
| --- | --- |
| Day | Timings |
| Sunday | 7:00 AM to 5:00 PM |
| Monday | 7:00 AM to 5:00 PM |
| Tuesday | 7:00 AM to 5:00 PM |
| Wednesday | 7:00 AM to 5:00 PM |
| Thursday | 7:00 AM to 5:00 PM |
| Friday | 7:00 AM to 5:00 PM |
| Saturday | 7:00 AM to 5:00 PM |
Way to Reach
Valley of flowers is well connected with most of the cities and towns of Uttarakhand. Govindghat is located on the banks of Alaknanda river at an elevation of 1828 m where you can stay overnight if you reach there at evening there are many budget friendly hotels in Govindghat. From Govindghat there is a new road which is 4 km leads to Pulna village, from here there is just 14 km trek to reach Valley of flowers.
By Air
Jolly Grant Airport is the nearest airport to Valley of flowers but roads are only connected upto Govind Ghat from where you have to trek 16 km to reach at valley of flowers. It is situated at a distance of 292 km from Jolly Grant airport and is well connected to Delhi with daily flights. Taxis are easily available from the airport to Govindghat.
By Rail
The nearest railway station to Valley of flowers is Rishikesh railway station but the road is only connected upto Govindghat from where you have to commence trek of 16 km to reach at Valley of Flowers. Rishikesh station is located 273 km before Govindghat on NH-58. Rishikesh is well connected by railway networks with major cities like Mumbai, Bangalore, Delhi etc. Taxis, buses are available from Rishikesh, Chamoli, Srinagar, Joshimath and other destinations to Govindghat.
By Road
Valley of flowers is connected with motorable roads upto Pulna Village which is 4 km from Govindghat and from here you have to commence trek of 13 km to reach at Valley of flowers. Govindghat is well connected by roads with major destinations of Uttarakhand state. Buses to Rishikesh, Haridwar and Srinagar are available from ISBT Kashmiri gate. Taxis and buses are easily available from major destinations of Uttarakhand state like Pauri, Ukhimath, Rudraprayag, Srinagar, Chamoli, Karnaprayag etc.
Helicopter Service
Note: Helicopter service is not operational in bad weather.
If you are planning to cover Hemkund Sahib with valley of flowers, then definitely go for helicopter service. As compared to many other treks valley of flowers offers you option between trekking or taking helicopter service. There is helicopter service available from Govindghat to Ghangaria. Helicopter will drop you at helipad ground of Ghangaria from there you need to trek to reach at valley of flowers no other option! So please manage your luggage accordingly.
Frequently Asked Questions (FAQ)s
Que- Is their ATM facility available in valley of flowers?
Ans- No, there is no ATM in Valley of flowers. So people can withdraw cash from previous location where plenty of ATMs are available.
Que- How many days are enough to explore Valley of flowers?
Ans- Minimum 3-4 days are required to explore Valley of flowers.
Que- What are the road condition in Valley of flowers?
Ans- Being a part of well-maintained NH-58 till Govindghat, roads are quiet good and smooth till last road head and well suited for the personal vehicle like cars, buses etc. Trek starts from Govindghat to valley of flowers is also very good condition.
Que- Which is the best month to visit valley of flowers?
Ans-  July and mid August are the best month to visit valley of flowers.
Que– Is valley of flowers safe for solo trip?
Ans- Solo trip is dangerous in rainy season.
Keep visiting define places for latest updates.