Festivals of Meerut: Nauchandi Mela, Shivarathri Mela, Garh Ganga Mela, Sardhana Christ Fair
Introduction
Besides being a sports city in India, Meerut is also famous for various other things like Festivals of Meerut.
Attending world-class festivals in Meerut is one of the coolest things to do on the planet. You will have time with a few close friends or family at a spectacular music festival or a delectable cuisine festival in Meerut.
Festivals allow attendees to immerse themselves in the local culture and mood by providing the best in fun, entertainment, and food.
The events range into many categories to suit everyone's tastes, ranging from the biggest outdoor beach parties to insane music festivals. In this post, you will look at the lists of festivals in Meerut:
1. Nauchandi Mela
The Nauchandi Mela is an annual festival held in Meerut on the Nauchandi Ground. The Meerut Municipal Corporation organizes the fair, which lasts roughly a month. It usually begins on the second Sunday following Holi.
During this festival, Goddess Chandi, who is thought to be a reincarnation of Goddess Parvathi, is offered prayers, and the event begins.
The principal exhibitions are the creative and religious rites practised in rural Uttar Pradesh. This event includes a Kavi sammelan, live dance and musical acts and Urdu poetry recitals.
Every year, more than 50,000 people attend the expo. The Nauchandi Express rail, which runs from Meerut to the state capital of Lucknow, is named after this festival.
2. Shivarathri Mela 
The Maha Shivratri festival is considered lucky and significant for the release from previous sins or negative karma. Moksha is the status of being liberated of the cycle of birth and death. Married ladies can achieve marital bliss and happy family life.
This meal takes place on the banks of the Hindon River near Bhagpat during the month of Falgun. It will begin on Maha Shivaratri Day in March.
People from neighbouring towns and villages have gathered for this week-long celebration.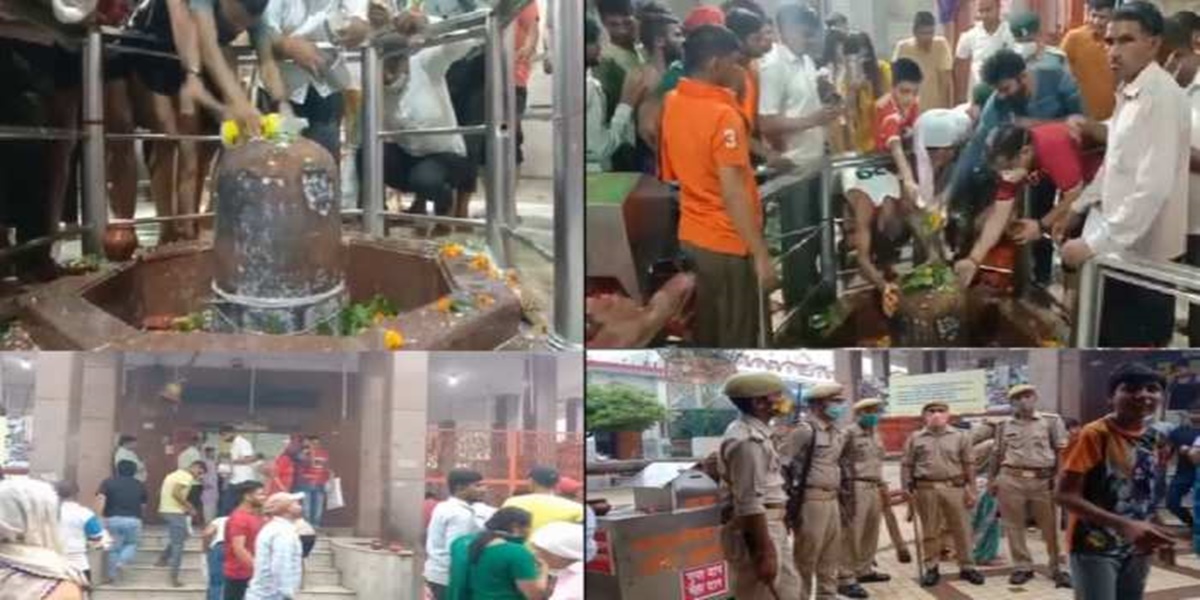 3. Garh Ganga Mela 
Garhmukteshwar is a sacred site on the banks of the holy Ganga.
Garhmukteshwar is known for its Garh Ganga Mela, which takes place every year on the Full Moon Day in November.
Approximately 10 lakh people travel worldwide to take a holy bath in the Ganges River.
Another fair, held on Dussehra, draws approximately 96 00 00,000 worshipers. Mukteshwar Mahadeva, a huge temple devoted to the goddess Ganga, who is worshipped in four temples, is the place's name. Along Meerut Road, one of them is located.
4. Sardhana Christ Fair 
Meerut Town is 20 kilometres away from Sardhana. Begum Samru built a notable Catholic Church in this location in the year 1822.
Every year on the first Sunday of November, a huge feast in honour of Mother Mary is held.
Devotees and history buffs flock in huge numbers to view not just the magnificent shrine.
But also Begum Samru's splendid mansions were erected in the Italian style around the church.
An Indian-style Carnival, which has been increasingly popular recently, is a celebration highlight. Traditional performances are also available.
Final words: 
Apart from the fairs mentioned above and festivals, Meerut has a variety of other events, fairs, and melas that have been held for generations. Thus, these are the important festivals of Meerut. If you plan to visit Meerut, visit when it is festival time.
Read Also: