Festivals of Kolkata : Basanti Durga Puja, Saraswati Puja, Lakshmi Puja, Dover lane music conference
Hindu Festivlas of Kolkata
Kolkata is a beautiful city in every way, and Bengalis only need a reason to celebrate. This truth about the location has been recognized in numerous feature and visual media forms.
Kolkata's festive passion is undoubtedly one characteristic that differentiates it as a unique location. The lovely township is known for its numerous festivals, which keep its citizens active all year.
During the festivals, the entire mood changes, and there is a lot of noise and hurry. Kolkata is know for some famous Festivals of Kolkata like Durga Puja, Kali Puja, Saraswati Puja, and other festivals are also held throughout the year.
There are also a number of lesser-known ones that are popular in the Bengal region and take on various shapes in different parts of the country, which you shall attempt to make aware of.
Below you will see the festivals celebrated in Kolkata:
1. Basanti Durga Puja
The Homecoming of Goddess Durga festival is most widely celebrated in the months of September and October, and traditions believe that the Puja was initially observed in the spring season.
Goddess Durga was only called to the ground during this style of worship, Durga festival has grown in popularity in recent years. In Kolkata, the Basanti Durga Puja is still incredibly popular.
The city comes busy with the sound of conch shells and brightly lighted pandals with elaborately decorated idols of the Goddess, as well as individuals dressed in colourful clothes and dancing to the beat of dhakis.
2. Saraswati Puja
The Saraswati Pooja is celebrated with tremendous fanfare in Kolkata during the month of January as Basant Panchmi in North India.
Goddess Saraswati, the goddess of knowledge and learning, returns to Kolkata for this one of a kind festival. The view of little girls dressed in yellow sarees visiting Saraswati puja pandals all across the city is pleasant.
This day of dedication is also considered a blessing for children to begin writing for the first time and begin any study related activity.
3. Lakshmi Puja
The Hindu Goddess of wealth and prosperity, goddess Lakshmi, returns home during Lakshmi Puja.
The festival is only open to Bengalis because this Puja is performed around Diwali, the festival of lights, by Hindus other than Bengalis.
Choices are made to Goddess Lakshmi, and prayers are made to bring wealth and success to their houses. This is commonly done at home by a priest and by themselves.
4. Dover lane music conference
One of the best festivals in Kolkata for music fans and enthusiasts is a 3-day event highlighting the vast variety of India's classical music list. Prepare to be overwhelmed by the soul-stirring performances of music maestros from all over the country.
This musical conference is the most desired in the city, including all other events in volume and scope with three nights of divine music from light to dawn.
The fact is that tickets were sold out weeks in advance due to its popularity, so you can book early to see this musical voyage.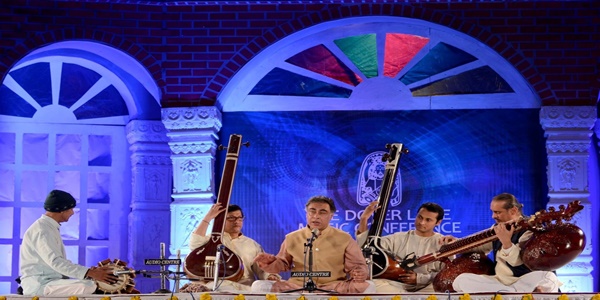 Bottom Line
The Bengalis, who are deeply steeped in their culture, require a reason to smile and participate in the small joys in life.
Seeing the many festivals that take place in Kolkata throughout the year is like being a part of a year-round celebration of life.
If you want to be a part of the festivities, make sure to plan your trip in advance.
Other Articles: